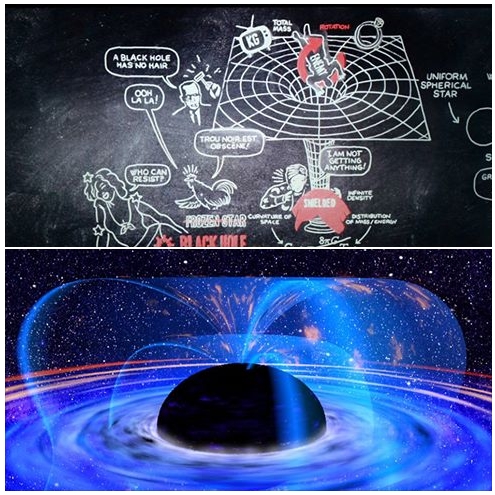 STEPHEN HAWKING:
BLACK HOLES ARE HAIRLESS!


An illustrated companion to Prof Stephen Hawking's first Reith lecture about black holes.

While Prof Hawking describes the history of scientific thinking about black holes, the artist Andrew Park draws the key points of the lecture in chalk on a blackboard. (Animation produced by Cognitive.)

This is an incredibly illustrated presentation.

Also mentioned is the BLACK HOLE INFORMATION PARADOX,
which basically says that no information can ever get lost, in this Universe.

read more...
---

Worldwide quantum physics experiments powered by human randomness
The BIG Bell Test (BBT) is a worldwide project to bring human unpredictability (randomness) to cutting-edge physics experiments. It may be surprising, but there are aspects of physical reality that can only be understood by asking unpredictable questions of nature. The most famous experiment of this kind is the Bell test, which seeks to catch quantum particles "talking" to each other and matching their answers to the questions asked.

When, where? 30. November 2016. All over the world.



http://thebigbelltest.org/
https://www.facebook.com/TheBellsters/
Read more about this experiment on the "Hitchhiker's Guide to the Quantum World"


---
Watching information at play in the quantum world
is throwing physicists into a flat spin, says Mark Buchanan, 1998
In the context of quantum theory, information and physical stuff are beginning to blur into a kind of supersubstance that goes beyond the properties of either. "Information is such a fundamental thing," says Andrew Steane of the University of Oxford. "The ambitious goal is to discover its basic properties, and then from that deduce quantum theory."




See more
---